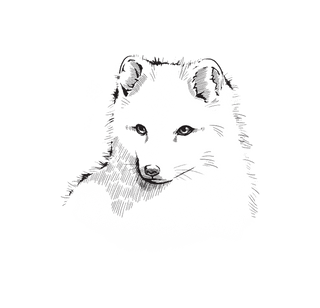 There are many bright ideas and exciting projects with the potential to make a difference for the environment, but they need commitment and collective effort to be realised. We can each do a lot, but together we can do more.
In 2019, we founded the Arctic Fox Initiative; a collaboration between Fjällräven and you. Funded through the purchase of select Fjällräven products, the Arctic Fox Initiative awards several non-profit organisations with grants each year. The organisations chosen must have the goal of protecting our environment or inspiring people to spend time in nature.
Why the Arctic Fox?
Fjällräven means "arctic fox" in Swedish, so it is no surprise that the endangered species inspires us. In Scandinavia, arctic foxes have been on the brink of extinction for a century, and face increasing challenges today due to climate change.
As such, the arctic fox has become more than a conservation effort for Fjällräven. It is a symbol of our expanding efforts to protect nature, and to support initiatives that have the same goal. The first project that inspired the Arctic Fox Initiative is the Save the Arctic Fox Project with Stockholm University, and we continue to support it today. Learn more about the latest status.
Support the Arctic Fox Initiative
Kånken Art is a limited-edition collection of backpacks and accessories designed in collaboration with a different Swedish artist each year. One percent of Kånken Art sales go directly to the Arctic Fox Initiative fund. Kånken Rainbow is also a part of Arctic Fox Initiative. With Kånken Rainbow, Fjällräven celebrates every individual's right to express themselves. A portion of the sales from each backpack goes towards projects within the Arctic Fox initiative.
Kånken Art is a special expression of creativity and each item highlights the artist's unique connection to nature and the environment. Past collaborations include artists Moa Hoff, Cecilia Heikkilä, Erik Olovsson and Linn Fritz. For the 2022 edition of Kånken Art "Free Horizon", Fjällräven teamed up with Swedish photographer, art director, interior architect, set designer and colourist Tekla Evelina Severin.
Past Arctic Fox Recipients
Arctic Fox Initiative
The Leave No Trace Center for Outdoor Ethics
The Leave No Trace Center for Outdoor Ethics is an American non-profit organisation dedicated to protecting the outdoors by teaching people to enjoy it responsibly. Leave No Trace provides cutting-edge research, education, and initiatives to motivate more people to act respectfully in nature.
Arctic Fox Initiative
The 2 Minute Foundation
The 2 Minute Foundation is a UK-based charity devoted to cleaning up the planet two minutes at a time. They believe that simple, achievable acts can add up to make a great difference. The organisation is responsible for the initiatives #2minutebeachclean, #2minutelitterpick, and #2minutestreetclean.