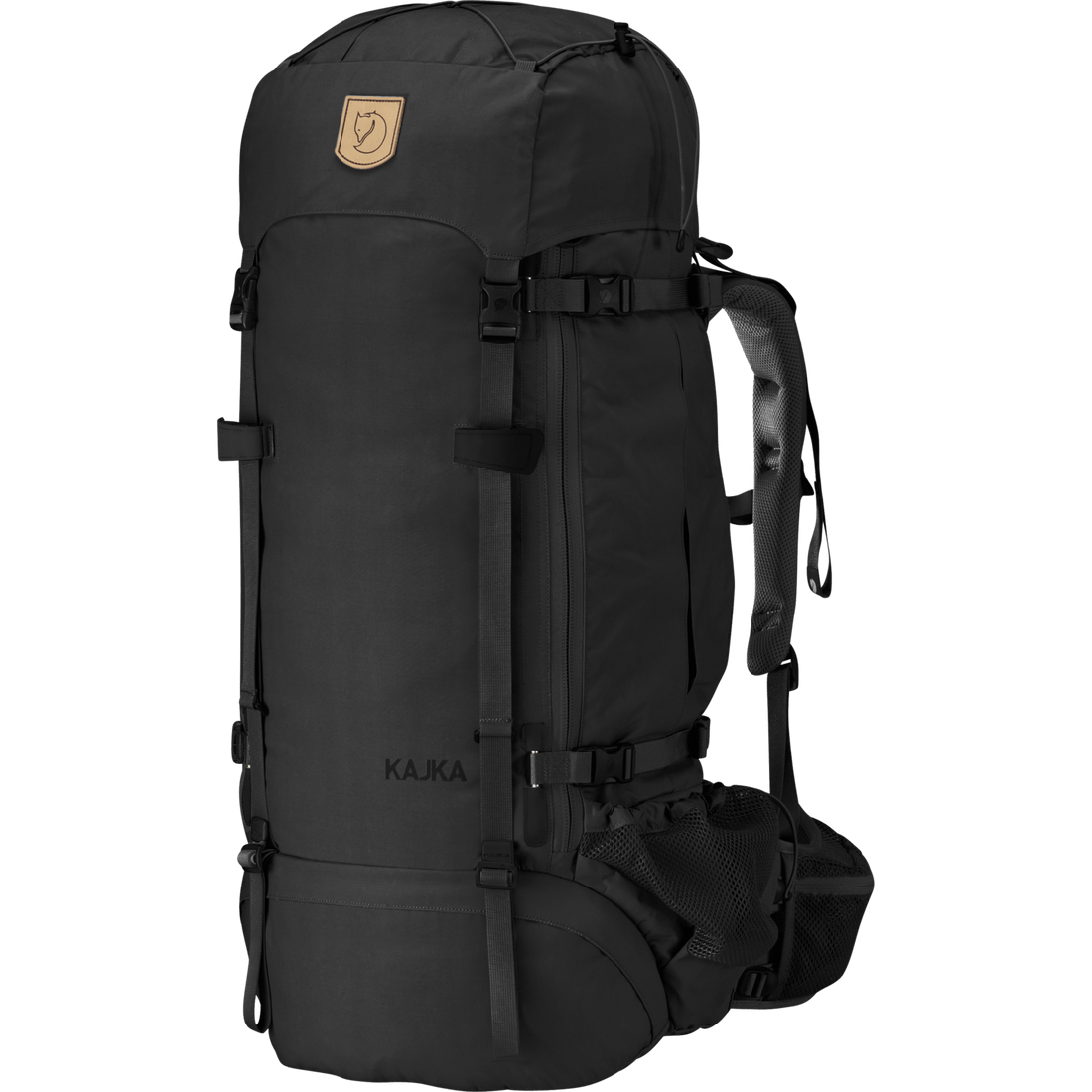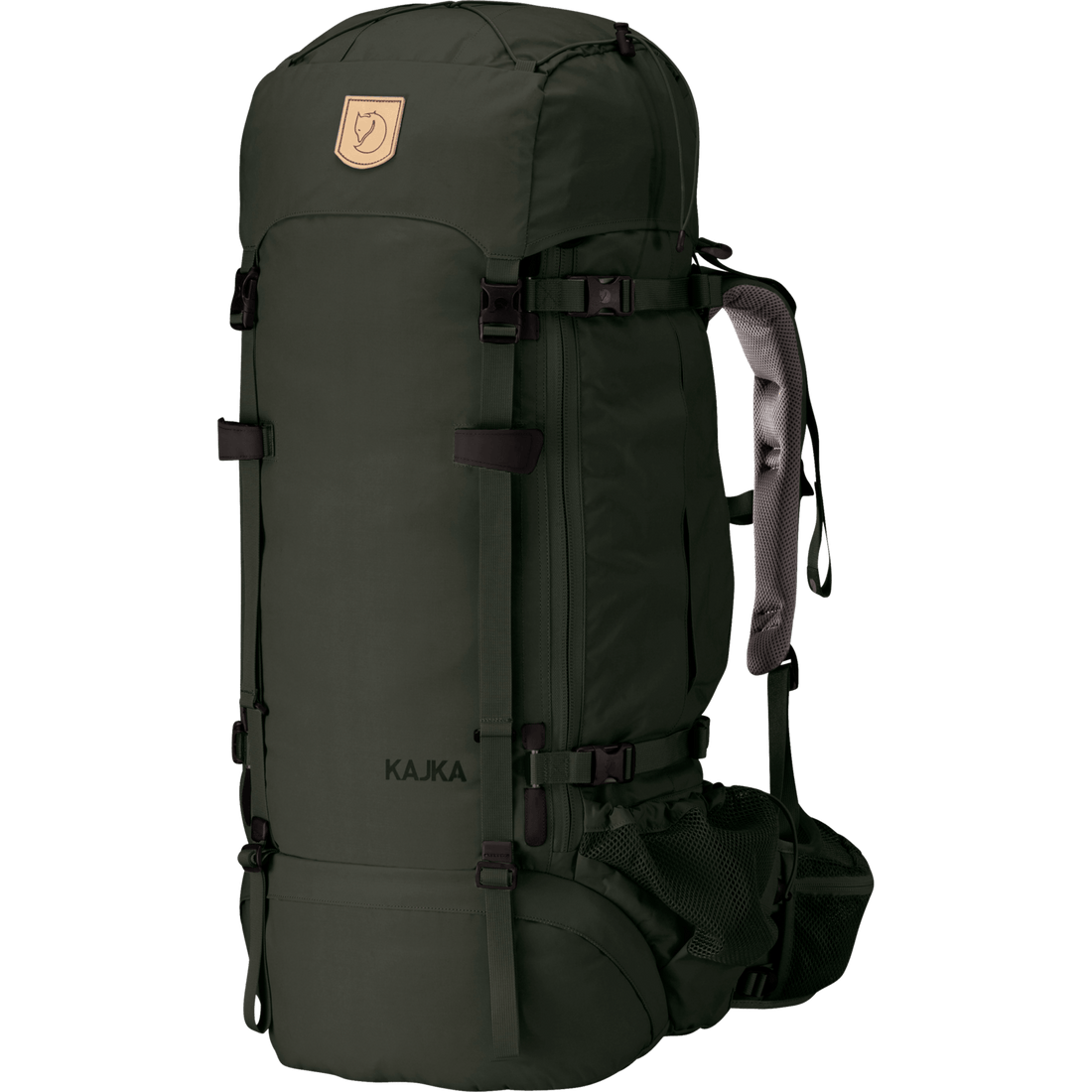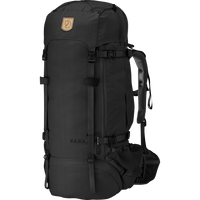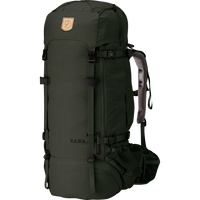 Advanced trekking backpack that is extremely comfortable to carry with smart functions and an innovative wooden frame. Perfect Fit adjustment and Wet/Dry compartments.
FREE SHIPPING OVER $150
PRODUCT DESCRIPTION
Product Description
Durable, comfortable and loaded with functions Ð despite its fairly modest appearance, Kajka is an advanced trekking backpack in the classic Fjällräven spirit. Now upgraded with fine-tuned and improved functions and an innovative, one-of-a-kind wooden frame that impacts the environment considerably less than previously while maintaining its strength and functionality. The support system is designed for female anatomy with ergonomically shaped shoulder straps, and it distributes even extremely heavy loads.
The user-friendly Perfect Fit Adjustment System can be easily fitted to the length of the user's back and shoulder width. The hip belt is specially shaped to fit the female form and offers a high degree of carrying comfort on long trekking days. The main compartment is loaded from the top and has a snow lock. It also has a large vertical opening in the front and another one at the bottom to help the user get an easy overview of the contents.
It can be divided into an upper and lower section. The lower section has Wet/Dry compartments to keep damp and dirty equipment from the rest of your things. There are also practical zippered pockets in the top lid, sides and hip belt. The top cover can be removed and worn as a waist or chest bag when you want to keep a close eye on your valuables. Two compression straps on each side fasten onto small poles for even and effective compression without blocking the side pocket openings.
Attachment points on the top cover and bottom of the backpack. Whistle on the chest strap and rain cover with reflectors. Kajka has been praised by hikers all over the world as well as by the trade press. Amongst other things, it was named 2009 Product of the Year by the Swedish outdoor magazine, Utemagasinet, and Best in Test by Retkis, a Finnish publication, in its large backpack test in 2011.
Product Features
Durable, comfortable trekking backpack built to carry heavy loads.
Unique wooden frame construction made from FSC-certified birch.
Supportive hip belt and ergonomic shoulder straps designed for women.
Easy to adapt to fit the user's back length and shoulder width.
Composition Brand Material : Vinylon F: 100% vinylal
Composition Material : polyester 600D: 100%
Material : Vinylon-F
Bottom Opening: True
Carrying System: Perfect fit, Wooden frame
Chest Strap: True
Depth: 29
Equipment Features: Expandable side pocket, Side compression straps
Front Opening: True
Gross Weight: 3,3
Height: 80
Hip Belt: True
Pockets: Inside compartment, Outside compartment, Outside mesh pocket(s), Security pocket, Zippered outside pocket(s)
Rain Cover Included: True
Weight: 3700
Additional Instructions: soft brush and lukewarm water
Bleaching: do not bleach
Drying: do not tumble dry
Dry Cleaning: do not dry clean
Ironing: do not iron